Schluter®
Schluter® Profiles
Schluter®-Profiles protect tile edges from cracking and chipping, eliminate the need for caulking, and provide easy transitions between adjacent floor and wall coverings. Plus, with the availability of so many styles, sizes, and materials, they can complement any design.
Schluter®-SCHIENE
Schluter®-SCHIENE provides effective and attractive edge protection for tile coverings that are typically bordered by carpet, at expansion joints, or as decorative edging for stairs. The profile offers a discreet, minimum reveal which is ideal for creating elegant transitions between floor coverings.
Prevents tiles from chipping
Ideal for creating transitions on floors
Schluter®-JOLLY
Schluter®-JOLLY is a finishing and edge-protection profile for the outside corners of tiled surfaces on walls. The vertical wall section of the profile provides a decorative finish and protects adjacent tiles. Other applications include transitions for dado coverings such as carpet, natural stone, or cold-cured resin coatings.
Prevents tile edges from chipping
Schluter®-RONDEC
Schluter®-RONDEC is a finishing and edge-protection profile for tiled edges and outside corners of tiled surfaces. The reveal of the profile forms a symmetrically rounded corner along the surface edge.
Prevents tile edges from chipping
Ideal for color coordination for tile and grout
Creates beautiful accents and decorative designs
Combine with the DESIGNLINE border profile for increased design options
Features an integrated joint spacer that creates a defined joint cavity between the tile and profile (specific materials only)
Full line of accessories available, including inside and outside corners, sink corners, connectors, and end caps
Available in chrome-plated solid brass, anodized aluminum, color-coated aluminum, stainless steel, and PVC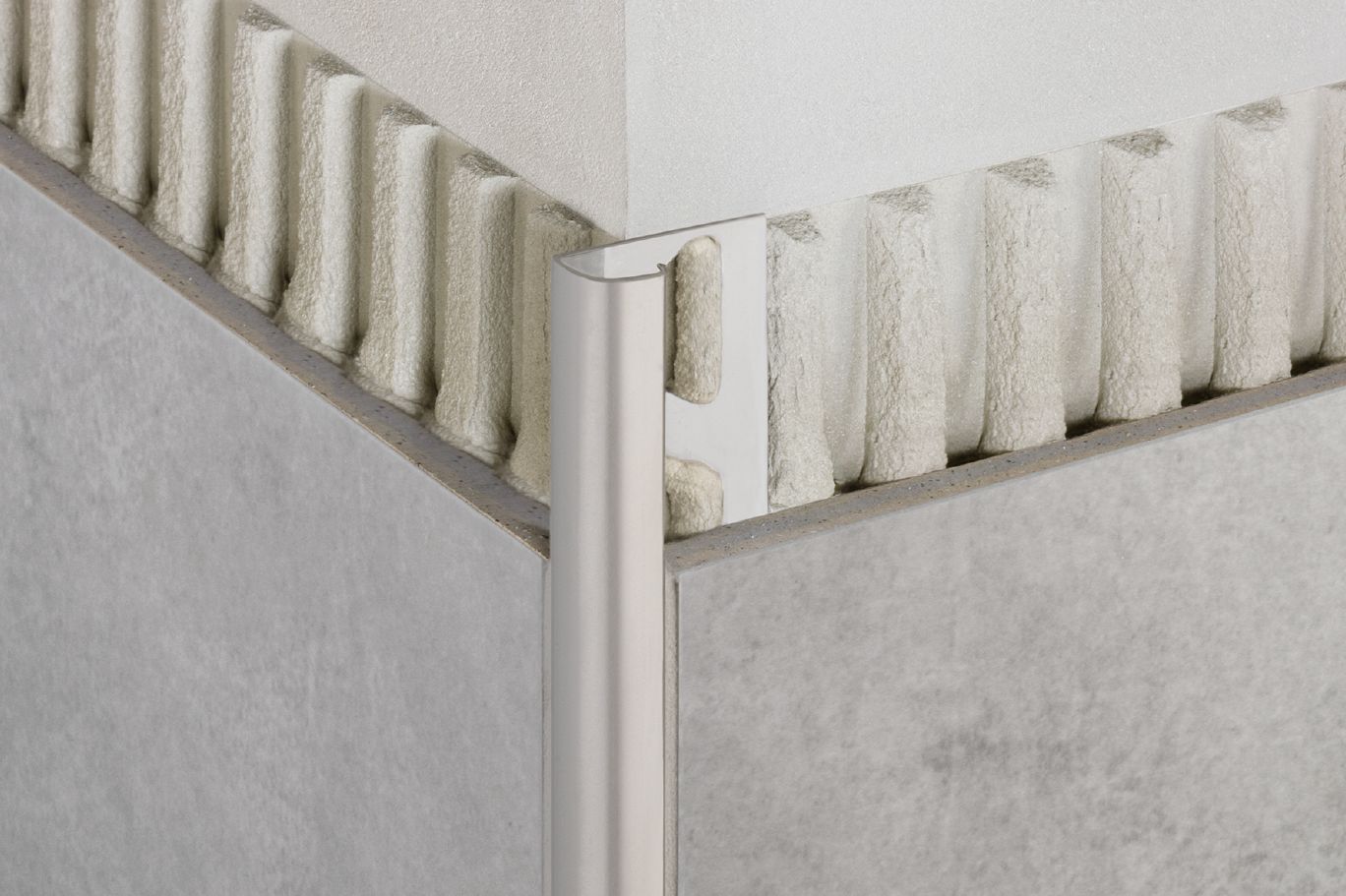 Floor Warming
Combine the beauty and durability of tile with the comfort of an electric floor warming system to bring a touch of luxury into any room of the home. DITRA-HEAT is the only electric floor warming system that directly incorporates uncoupling technology to ensure that floors aren't susceptible to cracked tiles and grout. Cables can be placed wherever heat is desired for customized heating zones, and no leveling compounds are required, which makes for a quick and easy installation.
With the proven technology of our DITRA uncoupling membrane incorporated in the design, DITRA-HEAT provides the ideal solution for bringing comfort and floor warming to any tiled floor.
Click the link above to calculate heating materials needed for your project
Schluter®-DITRA-HEAT-DUO
Schluter®-DITRA-HEAT-DUO is an uncoupling and waterproofing membrane with an integrated bonding fleece that provides sound control, as well as a thermal break. Optionally, the system can be customized with floor heating cables to create a warm, luxurious tile floor.
Features integrated sound control and thermal break
Reduces impact sound transmission through floor-ceiling assemblies, making it ideal for multi-story construction
Reduces heat loss to the substrate for up to 70% faster heat-up times over concrete
Nominal 5/16" (8mm) thickness minimizes tile assembly thickness and reduces transitions to lower surface coverings
Self-leveling compounds are not required to encapsulate the cables into the membranes
Available by the roll or by the sheet to accommodate various room sizes
The stud structure of DITRA-HEAT-DUO is specifically designed to allow for the easy installation of DITRA-HEAT-E-HK heating cables
Quick and easy to install and few tools are required
For more products, information, and technical specifications please visit Schluter's website